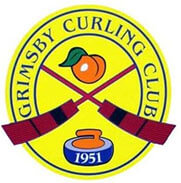 277 Kerman Ave, Grimsby, ON
905-945-2688
Club Manager: Amanda Evans
A bit about the Grimsby Curling Club (BCC):
Curling in Grimsby has roots as far back as 1908. The first known "rink" was a big wooden structure located on Elizabeth Street in the area approximating the entrance of the parking lot of today's Giant Tiger Store. Curling enthusiasts had to rely on natural ice, straw brooms and mismatched stones. Many years later there was curling in the Niagara Packers building on Livingston Avenue; the venue was used for packing and storing fruit in the summer then skating and curling took place in the winter. There was artificial ice but curlers still used mismatched stones that could vary in weight from 35 to 40 pounds and during that time each curler had to supply their own stones. This building burned down in the late 1940's. For the sum of one dollar Earl Marsh of Niagara Packers made a generous donation and deeded land to the Town of Grimsby for a Community Arena. In 1950-1951 when the town community arena was built (approximately in the area of the parking lot and Shopper's Drug Mart location) on Livingston Avenue; curlers were approached to utilize the ice. Sparked by an avid northern curler, S. H. Mills who had just retired to Grimsby from Thessalon, a group of local curlers formed a Club. This nucleus was the beginning of today's Grimsby Curling Club.
At the Grimsby Curling Club, we offer curling for all ages and experience levels to men and women during the daytime or evenings, Monday to Friday.  We offer both recreational and competitive leagues. Mixed curling is available on Friday evenings and Sundays bring full days of fun for our Junior and Little Rock youth leagues.
We offer clinics with qualified instructors for new curlers wishing to learn the sport, as well as seasoned curlers interested in learning new strategies and techniques on and off the ice. The club provides an environment of good fellowship and sportsmanship for curlers at all levels of competition.
Our cozy club creates a perfect and unique setting for various rental opportunities. Birthday parties, board meetings, retirement gatherings and office parties have all enjoyed our amenities both on and off the ice.
For more information, click here to visit the Grimsby Curling Club website.